Disney Plus Not Working on Roku – Fix Now
I enjoyed my favorite series on Roku, my wife was happy with her movies, and the kids loved their cartoons. But all of a sudden, Disney Plus stopped working on Roku. I took it by surprise when I began to look for a solution over the internet. Many people were complaining Disney Plus was not working on Roku. So this motivated me to find multiple solutions to the problem.
Keep reading the blog if you wish to watch Disney plus, trust me these solutions work, because my family is watching their favorite Disney Plus productions, which are Marvel, Star Wars, Frozen, Beauty & the Beast, Toy Story, Aladdin, Lion King, Mulan, Pocahontas, Big Hero 6, Monsters University, Descendants, Pirates of the Caribbean, Zootopia, Hercules, Moana, Alice Through the Looking Glass, Sleeping Beauty, Tangled, Brave, Cinderella, Maleficent, A Wrinkle in Time, and many more.
Disney Plus Not Working on Roku – Easiest solutions
If you're a Disney Plus subscriber, you might be frustrated that you can't watch your favorite shows on your Roku. It's a problem that's been affecting people for years. The complexity of the problem is not necessary. For many people, only a reset or sometimes restart also works like a charm.
Diney Plus not showing up on roku? Update Disney Plus
The first thing you need to do is to make sure that you have the latest version of the Disney Plus app. If you don't, you need to update the app. We will show you how to update the Disney Plus app on Roku Tv.
Go to your Roku device
Highlight the Disney Plus channel
Tap on the start button and Check for updates
If an update is there, do it.
Please restart your Roku device after the update.
This solution seems pretty simple, but sometimes updates and restarts can get you rid of many undefined glitches. If the Disney Plus app is updated and still not working, you should also check the Rou software and update it.
How to update the Roku software
Go to the Setting of your Roku device
Tap on the System, then go to the system update
Tap on Check now, and Update your Roku Tv if an update is available.
Once the update is completed, restart your Roku tv and have fun.
---
Check the Disney Plus server if Disney+ not working on roku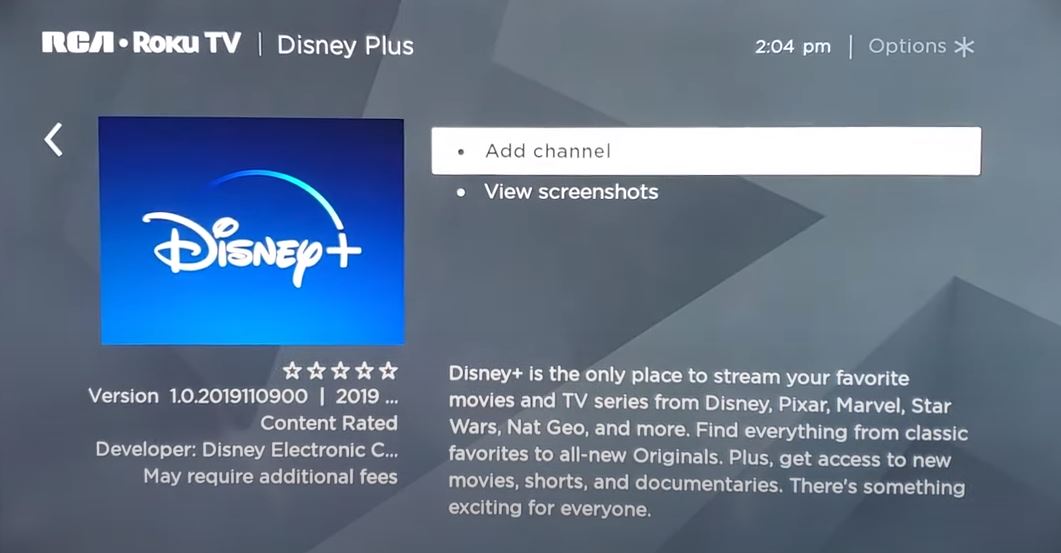 Many people stream videos on Disney Plus, which burdens the server. If all the other streaming apps are working on your Roku device, it is advised to check the Disney Plus server to see whether it's working on its own. Go to the Twitter handle of Disney Plus, and you can verify from there whether the server is working.
Don't panic or worry if their server is up, but you can still not watch Disney plus. Follow the below-mentioned solutions and have fun.
---
You need to install Disney Plus again
Those who have been using the Roku Tv for a long time know that deleting channels clears all the cache and other errors, and this will help us watch Disney Plus again, especially if Disney Plus an unexpected problem or Disney Plus stuck on loading screen roku. But before you remove Disney Plus or any other channel, remember it will be removed from all of your Roku devices, and then you will have to add them again. So this is how you can uninstall and install Disney Plus on your Roku TV.
Remove Disney Plus from Roku Device
Step 1: First, ensure that you have the latest version of Roku player installed on your device.
Step 2: Go to Roku home screen and highlight "Disney Plus."
Step 3: Now tap on the star * button on your Roku remote. It will open the channel options menu. Read this to fix the blinking green light of your Roku remote.
Step 4: In the channel options menu, tap on the Dialogue box, Click on Remove Channel.
Step 5: Again, Select "Remove to confirm."
This will remove the Disney Plus from your Roku device, and we will have to install it again.
Install Disney Plus on Roku Device
Step 1: Go to the Roku home screen of your Roku device.
Step 2: Click on the Streaming channels to choose Disney Plus. Choose Disney Plus from various other streaming channels.
Step 3: Click "Add a Channel" and enter your Roku Tv pin.
Step 4: Tap on the okay button to confirm the installation.
Step 5: Watch all your favorite Disney Plus channels on Roku after installation.
You can also install MediaBox on Roku device to watch unlimited movies.
---
Reboot Your Roku Device to Watch Disney Plus
If you have tried all the tricks mentioned above and they are not working, You are still determined to watch Disney+ on your Roku device. Then you'll need to do a little more work. We will have to reboot your Roku device. The process is simple and can be done in a few steps.
Step 1: Turn on your Roku device and press the home button on the remote.
Step 2: Go to settings and then select the System.
Step 3: Select the power and tap on the System restart from the system settings.
Step 4: It will restart your Roku Device, and hopefully, you will be able to enjoy Disney+ on your Roku device.
---
Factory reset your Roku device- the ultimate solution
The Factory Reset can help you return to your Roku TV's factory settings. If your TV is not working correctly, you can use this function to restore it to its original settings. This is a great way to fix a malfunction.
Before the factory reset, remember it will remove all your personal information and set everything back to its original settings. It will also remove all your saved channels and programs. You can do a factory reset by following these steps.
Step 1: Press the reset button on the back of your TV for about 10 seconds.
Step 2: Your LED will blink when the Factory reset completes.
Step 3: When done, your Roku TV will be set to its factory default settings.
Step 4: You must add Disney Plus or other channels again.
---
---
final thoughts
Roku is an excellent device for watching movies, series, and shows. It opens a new world of entertainment for everyone. If you are still unable to watch Disney Plus on your Roku device, Contact Roku customer support here. They will solve your problem.