Games Like Merge Mansion – Merge Mansion similar games In 2023

The gaming industry is growing day and night but not every one of us has the luxury of owning an ultra-high-tech and advanced gaming pc. Almost everyone owns a good smartphone, at least. That's why mobile gaming is taking the video gaming industry to a new level. Especially during and after the lockdown of covid-19, as games like Merge Mansion have been released, a sudden rise in mobile gaming players has been seen as more gamers are shifting towards mobile games. So if you are a mobile gamer and like to solve puzzles, you have come to the right place. We have created a list of 20 best games like Merge Mansion to play in 2022.
But before that, let's talk about Merge Mansion, Its storyline, and the feature we have in this game so it will become easier for you to select the game of your liking and preference from this list. Merge Mansion is a mobile game developed for iOS and Android users. It was released in 2020 by a small company from Finland named Metacore. In just one year of release, this game crossed over 10 million in downloads and $38.6 million.
Merge Mansion consists of two characters: Maddie, the main character, and her grandmother, Ursula. The storyline begins with Grandma Ursula giving Meddie some unknown keys, which turn out to be the keys to the Mansion. Still, Maddie doesn't have any clue about her grandma owning a mansion. As Maddie unlocks the Mansion doesn't look like it is in very good shape as the roof of that place is trembling. Flor is broken from place to place. Maddie is exploring the Mansion an inspector shows up and warns her that the Mansion is not in good condition and not a safe place. The inspector instructs Maddie to clean the place and then leave, so they don't have to demolish the Mansion. And this is where the game starts.
The Merge Mansion is quite simple, yet a little confusing, as puzzle game players need to collect items and merge them with their existing items to create new things to clean and fix different areas of the Mansion. The quest is that fix one part and unlocks another area where grandma shows and gives the hints and teasers for the next puzzle or mystery to solve
20 Games like Merge Mansion
There can be a number of reasons why a gamer like you is looking for a game like Merge Mansion. Some people just didn't get what they wanted from Merge Mansion, as the hype of this game was so high from all the advertisement campaigns created by the game's developers. So we have created this list that contains a variety of new and old games similar to play, like Merge Mansion
Gardenscapes – best merge games
Gardenscapes was initially created for Microsoft Windows in the year 2009 by Playrix, and later on, after 4 years, the Android and iOS versions were released. Gardenscapes is based on match-3-based gameplays. The storyline of this game is based on a loyal butler Austin who worked hard to serve his master all his life, but as the master died, he didn't quit his job and worked hard to maintain the Mansion for the rest of his life.
Gardenscapes was ranked in the Top-10 free games for iPhone in more than 100 countries. After only 24 hours of release, Gardenscapes crossed over a million downloads. Gardenscapes was named Game of the Year in 2016 by Facebook. In 2019 Gardenscapes was ranked as the fifth highest-playing puzzle game as the total download of this game crossed more than 213 million downloads and generated $1.5 billion in in-app purchases.
Latest Update of Gardenscapes in 2022
In May 2022, dance season starts in Gardenscaps. So get the golden Ticket to help Austin prepare the City Ball.
Help the makeover team change a young lady's total lifestyle in June.
There is a kite festival so you can help Robbie to express his love for his dear wife.
The Part in the Archaeology and the new prizes
Turn an area into the set of a reality show.
---
Toy Story Drop – best merge games android
Toy Story was one of the best T.V shows of all time. Created by Disney, it has filled our childhood with many nostalgic memories, but Toy Story is not over yet as we brought you a new game of Toy Story based on the match-3-based merge games.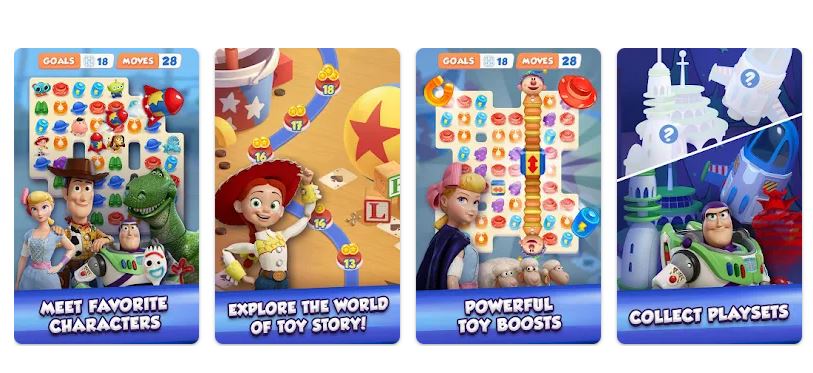 Toy Story Drop was developed and published by Big Fish Games in 2019. The task of this game is simple yet puzzling as the player needs items in front of them, just like in candy crush and other similar games like that, but it is so sad that this game was officially shut down by the developers one month before the release of the movie Toy Story 4, but apks of this game are still available over the internet. It was such a sad moment for the Tory Story fans as this was the only game of that time that was fully themed in the Toy Story universe.
In Toy Story Drop, players need to help Buzz lightyear, our lovely cowboy woody, and all the other characters to unlock their stories, like in the show where all the characters explore Andy's room. This game contains hundreds of match 3 puzzles.
Key Features of Toy Story Drop
Call the toy friends to help you through the themed puzzles like Claw to swap the game items.
Explore the map and discover the Easter eggs
Collect and assemble the playsets.
You can select your favorite toys to play with
Help all the Toy crew to get ready for Andy's return from camp
Watch the whole Toy Story as you progress through the puzzles and gameplay.
---
Merge Bakery Game Review
If you are a foodie and love to cook for yourself, this game is for you. Merge Bakery is a new game for iOS and Android devices. This game was developed and released by Full Fat Productions Ltd and ranked as the #1 tastiest game. Players need to unlock new recipes to become a baking masters. In this game, you can combine two different recipes to unlock a new signature dish of your own.
The initial level of this game starts from a waffle house and you need to unlock new stages to expand your baking business by serving new recipes to your customer. You can earn more coins by just merging recipes and satisfying the demand of your customers. One thing that makes this game different from other cooking and baking games is that you can have as much time as you need to feed your customers, unlike other games where players are required to serve the order in time to get coins. Now the most puzzling thing about this game is that the customers will ask you for the food you haven't made yet, so you need to merge the existing items to fulfill the customer's demand.
You can also work on the interior of your bakery by spending the coins player can upgrade the counter, windows, tables, and other parts of the bakery. All of these features make this game even more interesting to play as can be seen from the rating as Merge Bakery received an average of 4.7 stars on the App Store and Playstore.
---
Merge Airplane Game Review
So far, we have talked about Mystery, Cooking, and Toy games. Now let's get a little technical and build something advanced. This next game is about that, and we will build some advanced aircraft. Merge Airplane is the perfect game to play and build airplanes.
Players can merge airplanes and build some more advance and latest aircraft. Players can watch some basic ads to get new features, so the money keeps coming, which makes the purchasing of new items not so difficult. But as levels pass, inventing new airplanes becomes more difficult, and the cost of airplane parts gets higher than before.
Key Features of Merge Airplane explained:
Combine two basic airplanes to level up and build advanced aircraft.
Keep flying and keep earning money to buy new airplanes.
Earn the game money even if the player is offline.
---
Kaiju Attack Game Review
We have built some advanced aircraft, so let's save the world from the monsters. Kaiju's Attack is all about saving the world by solving the world. This is one of the best merge games for iOS devices. In this game, you need to combine blocks of people with building a military and collecting the weaponry to fight against the monsters called kaiju. While the idea and concept of this game are thrilling and adventurous, gamers have reported that the game has become so slow, and it is very easy for the player to get tired of playing it.
Kaiju Attack is a level-based game where you select one of the eight locations to save that Part of the world from giant monsters like the two-headed hydra.
Key Features of Kaiju Attack explained:
Players are going to see vintage-style graphics.
You can have eight choices to select from to fight with the kaiju monster.
Prizes and upgrades are not so hard to win.
Kaiju attack is very light on the content game.
---
Merge Mayor's – merge games online
Now that the world is saved from the kaiju, we need a mayor for our town. If you think you are the best candidate for this job, just play the game and prove yourself worthy enough for this title. Merge Mayor is a game that will give the trill to become the Mayor of your town.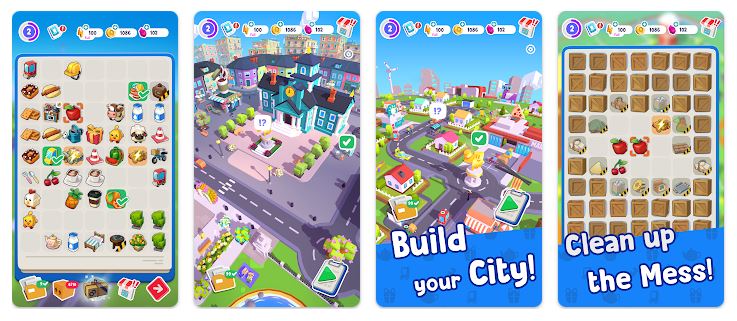 This game is based on the merged board of 63 blank spaces and you need to start your journey from spaces that are filled with wooden boxes. When you merge the items, the blank box will disappear, and the locked item will be unlocked. Now, the items always need to be combined with an identical item.
In update 2.15 of Merge Maybe, the Mayor Points were introduced. You can get these points in 4 different ways: my city points app, Mayor Points, Building Upgrade missions, and mayor perks.
---
Merge Matters
Merge Matters is the best game like Merge Mansion it was previously known as Mergescapes. This game is very much similar to Merge Mansion. You just need to find and collect the items and merge them to create a new item to renovate the house. We have collected some cool tricks for the players of Merge Matters. Firstly let's be clear there are no cheats for this merge game so stay away from the websites selling the cheats or hacks.
Merge Matters Tips And Tricks
Merge Matters is a very energy-consuming game, so the first tip is that you need to collect some items that will give you an energy refill. In this game, you'll get very limited energy so use it wisely to get the items you need to complete your task.
Just Sell the items if you are out of space. Saving energy in this game is frustrating, though there are limited ways to get free energy. Save the energy in your slots if you don't need them ungently leave it in your inventory until you get more or you are in urgent need of one.
---
Merge Dragons
If we are talking about the list of best merge games in 2022 Merge Dragons deserves a place in this list. Merge Dragon is famous because of its exploration and fun puzzles; of course, 3D graphics are another reason for its fame. As in most merge games, you'll have to merge and match the items to complete the Dragon quests.
Merge Dragons New Features in 2022
New Dens are here, so enjoy more social merging.
Visit and invite your friends to your camp
More eye-catching and improved art
81 challenges with 500 objects
---
Merge Life game review
In this game, your parenting skills will be improved as players are required to collect mere items to decorate the room of their child's off-course game. You will see some of the best interior designs in this merge game. But remember raising a child can be a difficult task in-game as well as the child will start crying and misbehaving like the real one.
Players are required to fulfill the child's demands, like making the milk bottle for the baby or getting some toys. You will also see the child growing and becoming an adult, and as the child grows, you level up the game. The child will also decide the life path. Merge life has received 4.6 stars on the App Store.
---
Matchington Mansion – merge games like merge mansion
Matchhington Mansion is a very good alternative to the Merge Mansion game. This game is based on designing and renovating elements using the match-3 puzzle. In this game, you will need to help Tiffany, the main character game, to find the hidden elements to renovate the room and unlock the next level of the game. Matchington Mansion is a free merge game for Android and iOS to play in 2022.
---
Big Home Cleanup & Wash

Just like in Merge Mansion, if you like the interior of the Mansion and how clean and clear the Mansion looks, this game is just for you. Players must clean their homes and other places like yards, swimming pools, museums, and gymnasiums.
You will need to find and merge the best tools for cleaning to level up in the game. This merge game is free to play. You can download it from Apple's App store, and if you are an Android user, just download it from Play Store.
New Features of Big Home Cleanup & Wash added in 2022
Three new views are added, clean-up Boats, Zoo, and Movie Theater
Objects will be hidden in messy places, so clean and find new things.
New mini-games inside the games are added, so check them out.
---
Dawn of Crafting – more games like mansion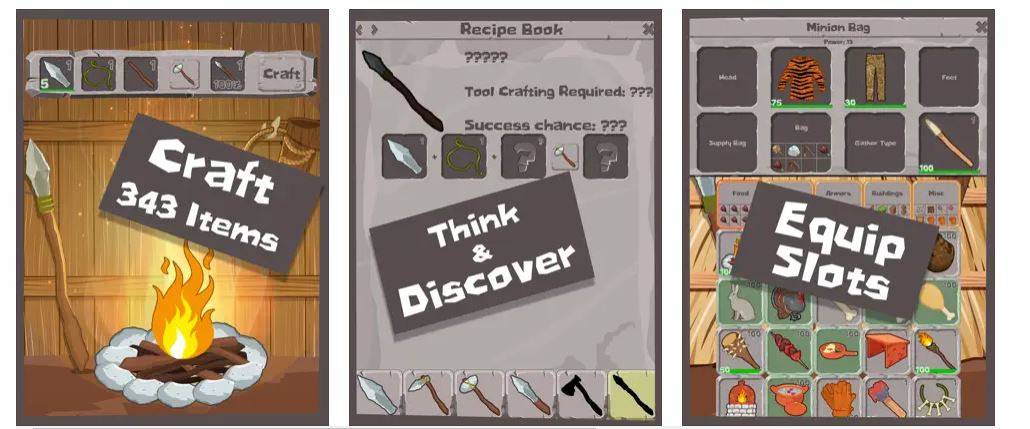 The Story of this game will take you back to the time of the stone age when you were lost homo sapien, and your village was attacked and destroyed by Home Erectus but don't worry, the Master Crafter Alf finds you and takes you with him and with Master Alf you will learn the art of fine crating. You will survive and find objects and merge them to rebuild your village and start humankind from there.
Top Feature of Dawn of Crafting
You will find NO ads in this game
You can play this game offline.
Single Player mode is also introduced
If you are not satisfied after playing this game, just get your money back.
---
Sea Merge: Fish Aquarium Magic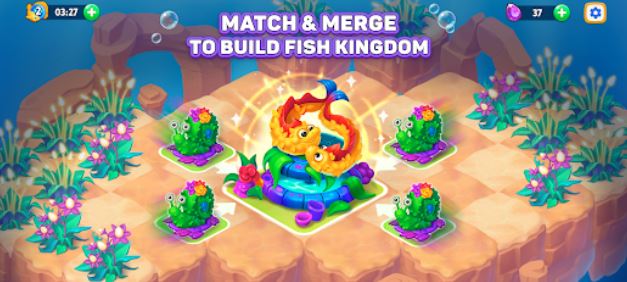 Just like life on land, the life inside the sea is also very important, and in Sea merge: Fish Aquarium magic, we are going to start our journey of finding, collecting, and merging items un the bottom of the sea. Player, we discover the secrets of sea magic and find new species for fighting the sea villains.
This game is not that simple. Every move will decide the upcoming challenge, so be ready for some of the most challenging merge games of 2022.
Top Features of Sea Merge: Fish Aquarium Magic
The player can build new marine camps by collecting the items and resources.
The player will need to find new species of fish.
To get to the new level, players must clear the sea bottom.
---
Merge Witches Game Review
Merge Witches is quite a traditional merge game, but the storyline of this game makes it more unique than others. So the Story starts something like this. There was a mysterious and wonderful sky city filled with witches, but the city was peaceful. The peace was not for so long as the monsters destroyed the town. Since then, witches have collected and merged magical items to make portions and spells to fight for their city. This is one of the best merge games for android users to play in 2022.
---
Wonder Merge Game Review
Wonder merges with another Dragon game on our list, but this one is a little different because players will see some of the cutest animations in this merging game. In this game, you will find some hidden magical creatures from around the world, like unicorns and Dragon magical plants. This game is quite similar to the game we discussed, Merge Dragons.
The only thing that differentiates is the graphics, and one more thing is the Dragons in wonder merge are not as lazy as Merge dragons as they don't sleep that much means you can collect and merge magical plants whenever you want.
---
Chromatic Fantasy – Best Merge Game for PC gamers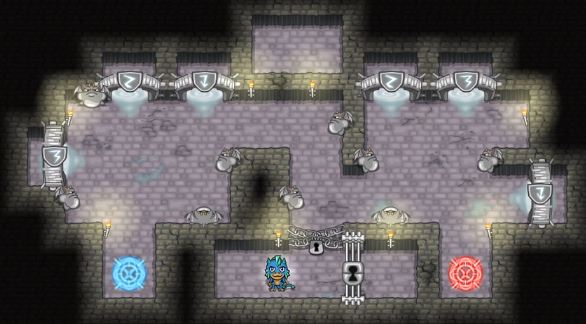 We have talked about top merge games for Android and iOS devices, but now I would like to introduce some of the best merge games for PC gamers. Chromatic Fantasy is a very challenging puzzle game. In this game, you will find a lot of magical creatures that are trying to escape the dungeons. Players will see four dragons imprisoned in the magic dungeons and trying to escape. Chromatic Fantasy requires players to draw their moves as each move decides upcoming challenges carefully.
This game is available on Steam. Although it's paid, you can try its demo version for free.
---
Forest Below Merge – Game for PC Gamers
Forest Below is another famous merge game. This game is famous for its lightweight you can play this game on a low-end pc. This game is actually a turn-based game. Players need to control the growth of the trees and teach the roots how to spread.
System Requirments for Forest Below
Minimum:
OS: Windows 8
Processor: 1 GHz
Memory: 1 GB RAM
Graphics: DirectX 9 or later with WDDM 1.0 Driver
DirectX: Version 5.2
Storage: 1 GB available space
RECOMMENDED:
OS: Windows 10
Processor: 1 GHz
Memory: 1 GB RAM
Graphics: DirectX 9 or later with WDDM 1.0 Driver
DirectX: Version 5.2
Storage: 1 GB available space
---
Doodle God: Mighty Trio Merge – Game for PC Gamers
Doodle God: Mighty trio in another traditional match-3-based merge game for pc gamers. Players will see God Alchemy performing the magic by merging different elements. So players need to identify the magic elements; the rest is the same as other merging games. Just fill your gaming life with colorful wonders of magical elements.
This game is available on Steam for early access.
---
Dark Soul
Dark Soul is a thrilling graphics-filled merge game where you will find dungeons filled with many unknown creatures, Lakes of fire and lava, and huge mountains of gold protected by the old dragons. So dive through lava lakes and unlock a whole new world of gold. The last thing about your character is that you don't have any powers, so best of luck.
You can find this pc merge game on Steam.
---
Draw a Stickman: EPIC 3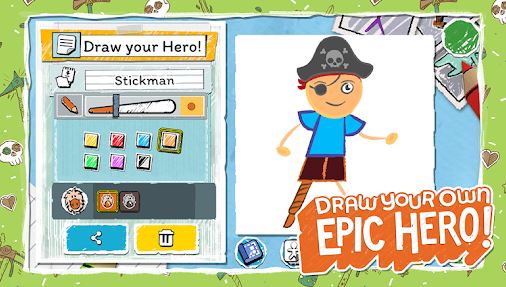 I just kept this masterpiece for last, so if you have made it this far in the article, then you deserve to know about this merged pc game. Draw a Stickman: EPIC 3 has been played over 100 million times worldwide.
This merge game has won 5 Webby awards. Players will need to show how much creative thinkers they are. Solve confusing puzzles, defeat monsters and get into another whole world. So just sharpen your Pencil Hero and get this game from Steam.
---
Games similar to Merge Mansion
So these are some of the best games like Merge Mansion to play in 2022. Try some of these games until you find the best match. As these are all puzzle games, you will find a noticeable difference in your problem-solving ability in daily life. Most of the games we add to this list are free to play, and you can download them from the Play store and App store. But the other Merge Mansion-like games can be downloaded from Steam. But if you are still confused about which one to select, then let me just recommend you if you are new to the merge games, then you should try Merge Mayor. It is very beginner friendly, and if you want to experience good graphics and still want to enjoy merge games, then you should try Merge Dragons.
---
Merge Mansion fAQs
Are there any games like merge mansion?
Merge Mansion is a match-3-based puzzle game. There are a lot of games in Merge Mansion to play in 2022.
Which merge game is the most fun?
There is a huge variety of match-3-based merge games. If you are a beginner, you should try Merge Mansion or Merge Mayor.
What type of game is merge mansion?
Merge Mansion is a match-3-based puzzle game.
Do you ever enter the Mansion in merge mansion?
Yes, you can enter the Mansion in Merge Mansion. You just play the game till level 14 you will unlock the Mansion.