Apps Like Whisper for anonymous chat
Whisper is an anonymous chatting app that allows users to send secret messages without revealing their identity. It is the easiest way to keep your conversations private, secure, and anonymous. Whisper provides a safe environment for you to talk about anything you want, even if it's something you don't want your friends to know. It works by allowing you to share it with strangers. That's why we have compiled a list of apps like whisper.
The best thing about Whisper is that it is very easy to use and didn't reveal your identity at all, that is why many people are liking it, however many whisper users also ask for the apps like whisper. So, we have tried and made a list of the best anonymous chatting apps like whisper, where you can share secrets, photos, and videos with others.
8 Apps Like Whisper for android
Hola App is a live video chat app to connect with strangers from different places. You can share your thoughts, share your ideas, ask questions, or just have fun with others. And you can remain anonymous. It's simple and easy to use. Just open the app, type your name and location, and you're ready to start chatting! You can also use the app to make a video call with strangers.
Ablo App
The Ablo App is a great way to meet new people who share your interests and passions. It also gives you a chance to learn about the world around you and make new friends. Ablo is free like whisper and available on iOS and Android devices.
This is a social network app for those who are looking to connect with others and make new friends without revealing their identity. If you are concerned about your privacy, or identity and want to chat with random people around the globe, there is no better solution than Ablo.  It lets you communicate with other people, you can not only make new friends, you can also share photos, videos, and other content with others.
Friend Shoulder app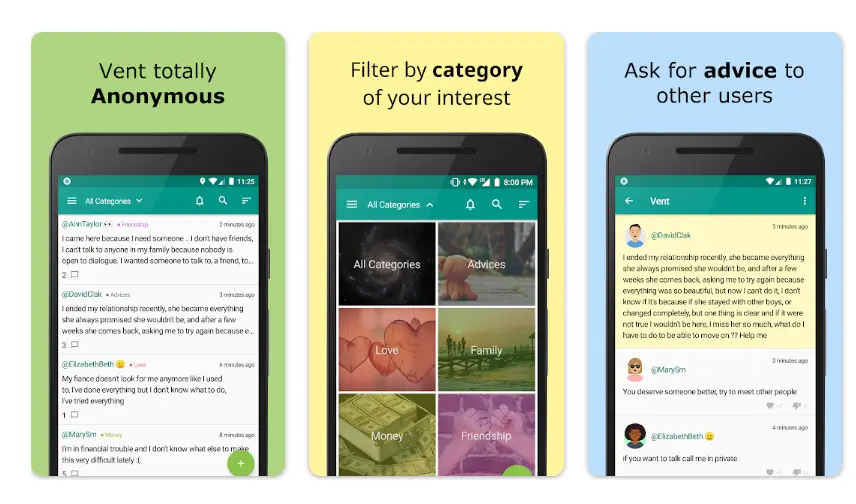 After using it straight for a month we can say this with confidence that Friend Shoulder is an app designed to help you get through tough times. The app allows you to ask for help from people who have been through similar situations. If you are looking for a shoulder to lean on, this is the app for you. We have found many people helping others, offering their shoulders or at least being a good listner. Trust me, if you want someone to listen you or help you emotionally, this app is a must for you.
Friend Shoulder allows users to post their thoughts, feelings, and fears anonymously. So, you should not be worried about being judges, your identity will not be revealed. This is a great way to ask for advice. It also allows users to receive support from others who are going through the same challenges.
HearMe App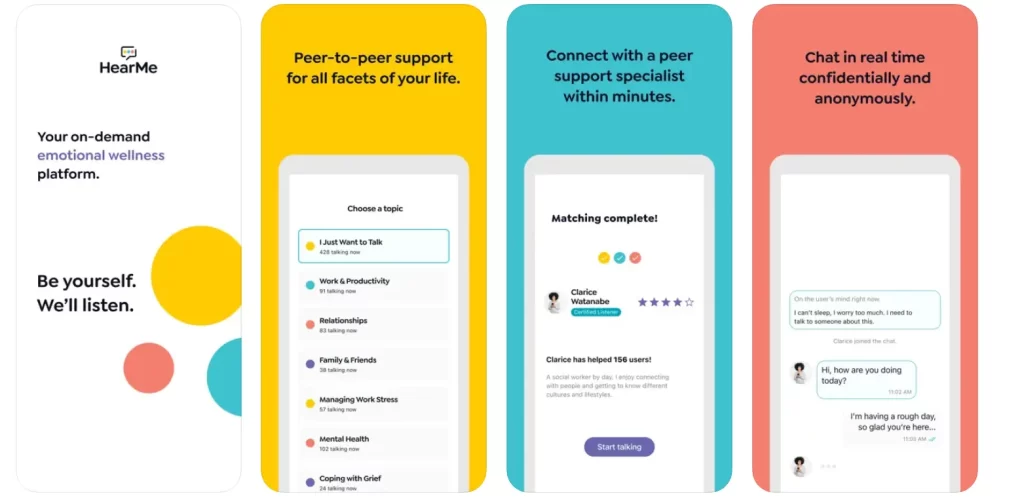 Anyone can fall in love with the idea behind HearMe, the developers made it because the wanted to offer users a way to connect with someone who has experienced what they're going through. And luckily, they made it. HearMe is very similar to an anonymous chat room, but instead of using text only, it also uses audio and video to help people communicate.
HearMe app is perfect for users who want to speak with a trained listener about pretty much anything. Users can ask questions about their relationships, mental health, finances, and more. It is a good platform for people to share their thoughts and feelings anonymously.
ASKfm app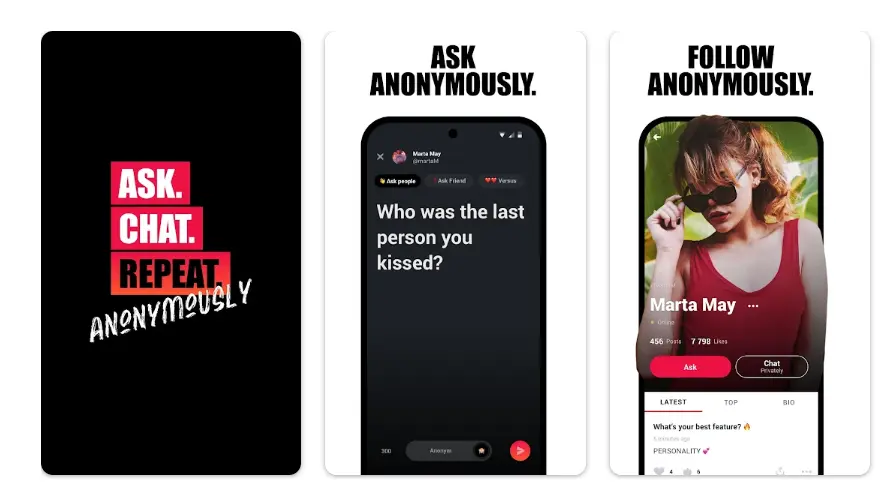 You may have heard about ASKfm before, but did you know that it's much more than just a simple messaging app? It's a real-time, conversational, anonymous chat that's designed to help you get your questions answered. People on ASKfm create questions and get answers from other users. It made it to our list of apps like whisper because it provides a great way to get help when you're stuck or need some quick advice.
Chatous App
Chatous is very famous because it allows people to connect with people from all over the world. The app is very easy to use. All you have to do is download it on your smartphone and start chatting. Once you are done, you can share your thoughts and ideas with other people. The app has many features that allow you to do so. You can send text messages, photos, videos, and voice notes.
The app has an extensive user interface that makes it easy for users to communicate with one another. It is designed to be very user-friendly. But it is not entirely free. You will have to pay if you want to chat with only females or males. It is free to chat and find random people.
Tellonym app
We all have a story, and we want to share it with the world. At Tellonym, you can do that anonymously. It's a safe space for you to share your story and be heard. It gives its users complete control over their identity. They can share your message with anyone, anywhere, and without revealing your identity.
You can post anonymously by tapping the 'Tell' button. The app also has a chat feature, so you can send private messages to anyone you want. This means that you can start a conversation without having to reveal your identity. What else one needs?
Moco app
Moco is a free chat app that allows you to meet new people, find new friends, or just talk to people you already know. Moco also has many features that you can use to improve your experience. You can add your profile, upload your picture, send messages, and play games. You can also make friends, meet new people, and even find a date.
You can also play a game with other users. The best part of this app is that you can also create groups to meet other people who share similar interests. If you want to start a group, you can invite others to join.
Apps like whisper for Annonymus Chat
We have used all the mentioned apps, and these are pretty much the same as whisper. You can confidently use these to send anonymous messages to people you don't know. You can also share your secrets and ask for advice. The most exciting part is that you can use it to share files, photos, and videos with people anonymously. There is no trace of the sender or the receiver. You don't have to worry about your privacy being invaded. These apps are available on all major operating systems.
You can also learn how to see who someone is following on Instagram
It also possible to see the comment history on TikTok
---
FAQS
Can I use apps like Whisper to meet someone?
If you've ever wondered if you can use apps like Whisper to meet someone, the answer is yes! You can use apps like Whisper to meet someone, the only thing that you should be careful of is to develop a real connection before meeting with someone. The key to building relationships is to spend quality time together, to talk about things that are important to you, to learn about each other, and to build trust and respect.
What is the best way to get started with apps like Whisper?
Apps like Whisper are growing in popularity because they are a great way to connect with people that you would not normally meet in person. To get started with apps like Whisper, you need to be careful. You need to make sure that you are meeting people who are safe and who will not be offended by your actions.
What are some examples of apps like Whisper?
There are many different types of apps that are like Whisper. Like, Ablo, Hola, Friend, Hearme. You can use these apps to chat anonymously and share secrets. You can send secret messages to people who have the app installed on their phone.
Why do people use apps like Whisper?
People use apps like Whisper because they want to talk to someone without having to worry about being caught. The most common reason is to meet new people. Talk to them anonymously, share secrets or ask for advice, without being judged or revealing their identity.